Forklift Battery

Safety Information
DC Power Solutions puts safety first when working with forklift batteries. Employees are your biggest asset and we can help you protect them. We provide useful information, advice and products including an MSDS library from DCPS, Enersys, Crown Battery, Bulldog and Quick Cable for your reference.

Are you ready in the event of an industrial battery spill? Don't make safety an afterthought, keep a Spill Kit on hand for protection, containment and neutralization. Nothing beats careful planning for real life safety and solutions.


Let's talk 800-326-0691
Safety & Compliance
DCPS blog
Positive Power
"Did you know that recycling your lead acid batteries is an easy step to take toward a greener tomorrow? These units are almost entirely recyclable, making them a more sustainable energy option. In fact, over 98% of all battery lead is recycled. This makes them the most recycled consumer product when compared to aluminum cans at 55%, newspapers at 45% and tires and glass bottles at 26%." More
Batteries & Chargers

Review, Refurbish, Recycle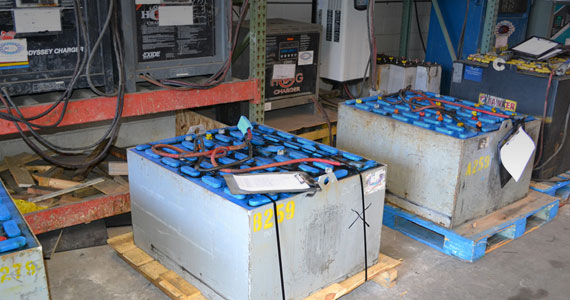 At DC Power Solutions (DCPS) protecting our communities, and the environment is a top priority. Using electric equipment is not the only way you can make a positive environmental impact (going green). Set up regularly scheduled preventative maintenance to help increase the life of your forklift batteries and check to make sure that you're charging your forklift batteries in the recommended manner.

refurbishing when possible and recycling lead acid batteries with us, as an EPA certified battery disposal facility, helps by keeping batteries out of the landfill. Forklift batteries and industrial batteries are almost entirely recyclable and we recycle scrap batteries at US processing facilities. By working with DCPS you're strengthening the economy as well as protecting the environment. Please contact us to find out how we can help you recycle your industrial batteries properly and within current U.S. federal and state laws.
read more