Lead Acid Battery
Service & Support
Let Us Lend a Hand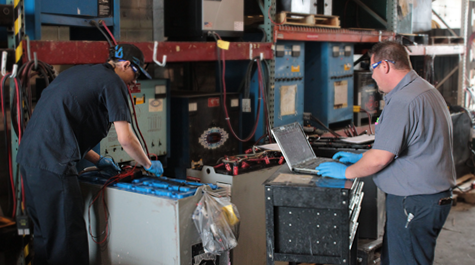 Our lead acid battery technicians and Solutions Providers share over 100 years of experience. As lead acid battery and battery charger experts you can count on us to be 'The Power That Moves Your Business.' We also rent forklift batteries and chargers while your forklift batteries are in the shop, or on order, to help you reduce downtime.
---
Mobile Battery Wash
Save time, money and avoid frustration by letting our mobile wash truck simplify your maintenance program. Our mobile wash truck allows us to bring our industrial wash bay right to your door.
---
Refurbished Batteries
Not sure if a forklift battery is spent? Our experienced service team can test the lead acid battery cells and provide reporting and information based on the data we gather, there are many times we can refurbish an existing battery to prolong your use. If it is spent we are an EPA certified lead acid battery disposal facility and can recycle forklift batteries and lead acid batteries for you.
---
Preventative Maintenance
Let us make things easier with regularly scheduled battery maintenance including battery hydration (i.e. battery watering) and checks to ensure that you're getting the best performance out of your batteries and chargers. Talk to our team to set up an affordable maintenance plan that ensures your battery fleet is being taken care of properly by experienced battery technicians.

Read the Top 10 Forklift Battery Maintenance Tips for more details about caring for your batteries
---
Service for Mining Batteries
Since mining batteries weigh thousands of pounds (and are not very easy to move) we go out onsite to mines to provide service for the batteries. We work either down in the mine, or at the mouth of the mine. If the battery needs to be brought into our shop for more extensive work and data gathering we can bring the battery to our shop where we can provide a much more detailed look at what's happening with the battery and manage any refurbishment that needs to happen.
Battery Spills
Safety
Employee safety is top priority. Compliance, MSDS forms all help.
Refurbish
See how much you can get out of your lead acid battery.
Get Help
We make working with big lead acid batteries easier.